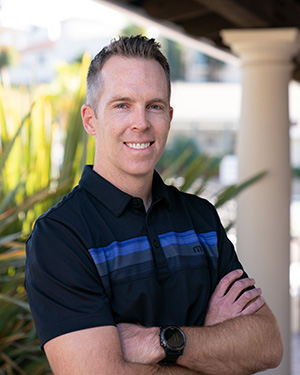 Becoming an orthodontist has been Dr. Matthew MacGinnis' dream since the third grade. Dr. MacGinnis was born and raised in Orange, CA and attended Villa Park High School. At Villa Park, he captained the varsity basketball team and was honored with 1st team all-Orange County honors in his Junior and Senior seasons. Because of his leadership on and off the court, Villa Park permanently retired his #22 jersey. He went on to attend Point Loma Nazarene University on a basketball scholarship, where he also captained the team during his senior season.
Dr. MacGinnis began his training at the University of Southern California's School of Dentistry (USC), where he studied four years of dentistry graduating magna cum laude. He then entered the "cross-town rival" and nationally recognized University of California, Los Angeles (UCLA) Orthodontics Residency Program, where he received an additional three years of orthodontic specialty training. While at UCLA, Dr. MacGinnis served as the chief resident and trained under and was mentored by Dr. Won Moon.
Dr. MacGinnis received numerous accolades and awards for his skills as a clinician and leader and for his clinical research. Dr. MacGinnis is a board-certified orthodontist, an honor achieved by less than half of practicing orthodontists.
On a personal front, Dr. MacGinnis is married to his wife, Wendy, and they have two wonderful children, Dane & Morgan. When he's not at the office, he enjoys competing in triathlons and spending time with his family.
FUN FACTS:
When he was a child, he thought he would grow up to be: an Orthodontist
On his DVR you would find: USC Football, HGTV shows, and Lakers games.
If he had a superpower it would be: x-ray visions so he wouldn't have to take x-rays
To satisfy his sweet tooth he eats: cookies and cream & mint chip ice cream blended by hand with milk
Something that always makes him smile: his kids
Place in the world he would most like to visit: Maldives